Hair Extensions
The Following Hair Co. is a New Zealand Flagship salon for Great Lengths Hair Extensions.
We are the national Educators for Great Lengths Hair Extensions New Zealand.
We specialise in Keratin Bond Hair Extensions application.
Keratin Bond Hair Extensions
Great Lengths keratin bond extensions offer a solution to hair extensions that will not compromise your own hair. These natural, keratin bonds delicately attach to your own hair and expand and contract with water, never pinching and causing breakage. Our keratin bond extensions last anywhere from three months to six months and give instant natural volume and length.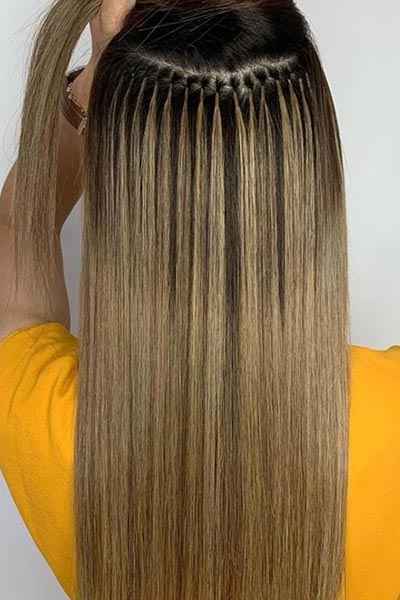 FAQ's
Why Great Lengths Hair Extensions?
Quality
100% ethical and traceable human Remy hair
Chemical free process
Never bleached or damaged
Eco-friendly
Hand crafted in Italy
Organic, damage free 
Natural looking hair
Moveable hair extensions
Longevity
Over 100 colours for us to choose from to match perfectly to your hair
 How Long does the application process take?
Anything from 1 to 4 hours depending on how many strands we apply.
What is the maximum length of hair I can purchase?
Our maximum length is 60cm. 
How much does a consultation cost?
Consultations are FREE and are no obligation.
How much do hair extensions cost?
Anything from $160 as we charge per pack.
Can I use hair extensions for volume?
Absolutely, hair extensions are a great way to give your hair volume. Many of our guests get what we call a "filler application"
The price ranges between $160 - $640 for a filler application.
Learn more about our hair filler application here: 
https://www.instagram.comhttps://www.instagram.com/thefollowinghair/guide/what-is-hair-filler/17923346855340748/?utm_source=ig_web_copy_link&utm_campaign=&utm_medium=
Reviews
Aine Conlan - Absolutely adored all 3 sets of hair extensions that I've had at The Following. From my consultation about Great Length extensions with the team, to removal, the whole process has been seamless. And oh my god, the hair it so beautiful! It blows me away every time! I got extensions for both length and volume and The Following pulled through with every hair goal I could have had. My hair was easy to manage and looked so full and beautiful for the whole life of the extensions. Sandi, my stylist, taught me how to get the most out of my extensions with styling and care tips so I never felt like I didn't know what to do, which meant I had all the confidence in the world to go with my new long blonde locks. I can't wait for my next set of extensions that will go in for my wedding (because perfect hair was such a priority for me), but also looking forward to all the compliments that come with my hair having the extensions in again! Thank you to team at The Following.
Janie-Lee Maisey - Love my colour and Great Lengths extensions at The Following Hair Co. Professional and friendly salon with great stylists. Highly recommend.